April 17, 2018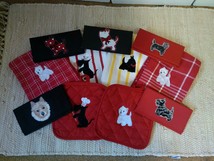 A number of great items ending on Ebay this afternoon: our checkbook covers + kitchen linen, and more - see above.

See these and all our listed items here:

Be to check our Terrier Rescue Events Calendar below for a very special estate auction to benefit Westie Med.

We sell on Ebay. So, put "Collectorfrosty", our Ebay selling I.D., on your Ebay favorites list, and put ibdoggone.com in your computer favorites.


***************

*Be sure to like us on Facebook, but don't message us. INSTEAD:

I B Dog Gone (FB)


***************************

Terrier Rescue Events Calendar

Please

send us your 2018 listings for rescue events: auctions, gatherings, and more so we can include them in our calendar. Help us, help rescue!

All we need is description, date, and a link.

4/20-22. Estate auction to benefit Westie Med. Some rare Westie collectibles included.
Westie Rescue Michigan FB Auction 2018. Log in to FB and then enter:
2018AprilWestieRescueMichAuction
5/30 - 6/3. Scotties Rock Auction.

*******************************


NOTE: We sell through Ebay
(Collectorfrosty = Ebay I.D.)